The telerobots built for the project
This chapter describes the three web telerobots built for this project and the development of the operator interface. It begins with an explanation of what was built and how web browsers and servers that were designed to provide information are used to teleoperate a robot. The provision of visual feedback is described and how the robots are controlled is explained. The problems that had to be overcome to achieve reliable telerobots are discussed. The design of the software is described including the technique for generating the operators interface, the methods adopted for tracking operators are discussed and the records used in the following chapters to analyse operator behaviour described. This is followed by a description of the methodology for operator interface development and some of the measurements made of operator reaction to the interface.
The first IRb6/L2-6 telerobot in Perth came online in September 1994. My intention was to provide a teleoperated industrial robot accessible to a large user base by not requiring any special equipment or software at the operator's end. The concept of a telerobot controllable through the World Wide Web is illustrated in Figure 41.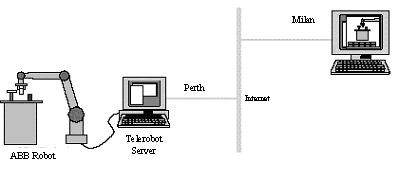 The World Wide Web telerobot concept. (Taylor and Trevelyan 1995)
Figure 41
The concept has remained unaltered throughout the project, however the implementation has been constantly modified. There have been three different operating systems in the telerobot server, Windows 3.11, Windows 95 and Windows NT and three different robots, initially a six axis IRb6/L2-6 in Perth, Australia replaced by an ABB1400 and also a five axis IRb6/L2 at Carnegie Science Centre, Pittsburgh, USA. A variety of frame grabbers and imaging techniques have been trialed and the software constantly revised. A time line of telerobot development is shown in Figure 42.